<![if !vml]>

<![endif]>
<![if !vml]>
<![endif]>
<![if !vml]>

<![endif]>
---
PEDIGREE WIN PHOTOS PHOTO ALBUM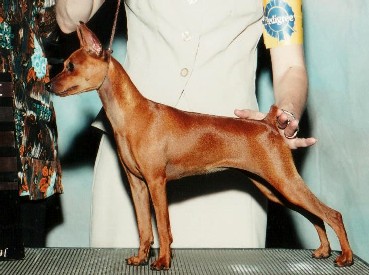 Roadie is pictured above finishing her UKC Championship at 6 1/2 mo. old!
Jennifer Cathey and Laurie Smith as co-breeders & co-owners
are proud to introduce.....
~Roadie~
At almost 8 months of age, Roadie stands at 11 inches tall.
Roadie is any breeder's dream come true.
Not only is she is a wonderful companion, who has never met a stranger,
she is one outstanding show dog!
She has quality, presence, and movement that will take your breathe away!
When she walks into the ring she demands that everyone Stop,
and take notice of her.
And boy have they!
4 weekends out at the shows, and she is making heads turn.
It won't be long before this little beauty finishes, she has 8 points to date, including one of her majors.
- Which was won by taking BOB over specials!

Roadie speaks for herself with quality and personality,
but we'll let you be the judge....

Watch for Roadie in a ring near you,
She'll be "Towing away the competition" this fall in the mid-west.

Roadie's AKC Wins To Date:
Show Name
Location
Date
Judge
Wins
Points Earned
Danville IL KC
Georgetown, IL
9/04/05
Charles Trotter
WB/BOW
1 point
Central Indiana KC
Lebanon, IN
9/17/05
Joe Tacker
WB/BOS
2 points
Greater Lafayette KC
Lebanon, IN
9/18/05
Lena Wiseman
Reserve WB
none
KC of Columbus, IN
Columbus, IN
09/24/05
Virginia Lyne
WB/BOS
2 points
Hoosier KC
Indianapolis, IN
10/02/05
Betsey Leedy
WB/BOW/BOB
3 pt major(11)
Total Points
8 points(11)
Roadie's UKC Wins To Date:
Show & Show #
Date
Judge
Wins
Points
BOB pts
Trail Creek DTC - S#1
08/20/05
Maude Tank
Best Female
25(comp)
none
Trail Creek DTC - S#2
08/20/05
John Davidson
Best Female
25(comp)
none
Trail Creek DTC - S#1
08/21/05
Richard Klatt
Best Female
25(comp)
none
Trail Creek DTC - S#2
08/21/05
Sandra Sauceda
Reserve Female
10
none
United W. Shepherd Club - S#1
09/10/05
Pamela Moore
Best Female
25(comp)
none
Total Points
110(4comp)
0
UKC CH Le Pins Roadside Assistance " Champion Class"
Show & Show #
Date
Judge
Wins
BOB pts
United W. Shepherd Club - S#2
09/10/05
Tina Augustine
Reserve Champion
none
United W. Shepherd Club - S#1
09/11/05
Jeanne Heger
Reserve Champion
none
United W. Shepherd Club - S#2
09/11/05
Gene Reynolds
CH of Champions
none
Total Breed pts
0

Laurie's note to Captain:
Well kid-o your kids are growing up and doing well,
I just have one question though.....
If they start swinging from the ceiling fan, is that genetic? ;-)
~love, Your Hoosier Granny~

Roadie's note to Captain:
Dad, why does mom keep telling me I act like your other kids?
I have no idea what she's talking about...
~luv, Roadie~