<![if !vml]>

<![endif]>
" Patti "
Pedigree Photo Album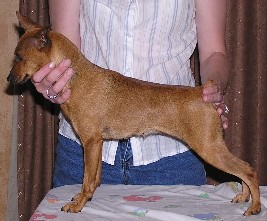 Krame's Patti Sue
was suppose to be...
KRANE'S PATTI SUE
But due to an AKC error the breeder never noticed the mistake.
This sweet girl came to use from Helen Kranenburg who has
Bred and shown minpins for over 20 years under the name of
KRANE'S
We were very fortunate Helen allowed Patti into our home.
She is a complete joy to be owned by.
This girl stands a hair over 11 inches tall.
She is everything Min Pins are suppose to be about.
She has a wonderful exuberant zest for life and expression that will keep you laughing!
Besides personality, her conformation is exceptional.
She is a nice short backed, cobby bitch.
Great topline and tail set, wonderful rear and angulation, nice front, nice spread of chest,
and the movement on this girl is unlike anything I have seen for a dog of her build!!!!
She is breath taking and I am glad we found each other the way we did.
Life would be pretty dull around here with out her!