<![if !vml]>

<![endif]>
<![if !vml]>
<![endif]>
<![if !vml]>

<![endif]>

" Nikey "

Pedigree Win Photos Photo Album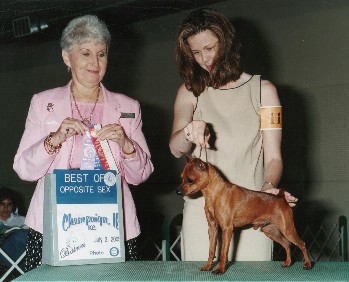 Nikey pictured with one of his favorite Judges, Ann Hearn.
Nikey came to us & is co-owned with
Sussie Nilsson of
Sorita's Miniature Pinschers.
Thank you Sussie for letting this sweet boy into our home.
He keeps us in stitches!

Standing at 11 1/8 inches.
Nikey is a very dark rich vibrant red, his color is just stunning.
At one point we thought he would be a stag red,
but he is just dark!!!
Darker even than it shows in his pictures.

He has a wonderful personality, that pretty much will light
up any room. He is such a fun loving guy, you can't help but smile
when he is around.
He has a wonderful head piece, beautiful topline & tail set, great
angles, great bone structure, an incredible rear,
and very pretty hackney like action.
We really think this boy will do very well in and out of the ring.
He sure has the look and personality to pull it off!
Nikey's AKC Wins To Date:
Show Name
Location
Date
Judge
Wins
Points Earned
Stone City KC
Morris, IL
10/03/04
Dawn Vick-Hanson
Reserve WD
none
Battle Creek KC
Marshall, MI
10/17/04
Ann Hearn
WD
1 point
Lake Shore KC
Crete, IL
11/20/04
John C. Shelton
Reserve WD
none
Kankakee River Valley KC
Kankakee, IL
11/28/04
Harvey Berman
Reserve WD
none
Belle-City KC
Belleville, IL
03/07/05
Dorthy M. McDonald
WD/BOS
1 point
Steel City KC
Crown Point, IN
04/16/05
Mrs. Thomas Gomez
Reserve WD
none
Steel City KC
Crown Point, IN
04/17/05
Connie S. Clapp
Reserve WD
none
Kokomo KC
Greentown, IN
05/22/05
Terri Lyddon
WD/BOW/BOB
1 point (5)
Little Fort KC
Grayslake, IL
06/17/05
Sam Draper
Reserve WD
none
Chain O' Lakes KC
Grayslake, IL
06/19/05
Denny Kodner
Reserve WD
none
Champaign IL KC
Urbana, IL
07/02/05
Dorthy Hutchinson
Reserve WD
none
Champaign IL KC
Urbana, IL
07/03/05
Ann Hearn
WD/BOS
1 point
Danville, IL KC
Georgetown, IL
09/03/05
Charles Trotter
Reserve WD
none
Danville, IL KC
Georgetown, IL
09/04/05
Sandra Goose Allen
Reserve WD
none
Greater Lafayette KC
Lebanon, IN
09/16/05
Clinton Harris
WD/BOW
2 points
Central Indiana KC
Lebanon, IN
09/17/05
Joe Tacker
WD/BOW/BOB
2 points (8)
Greater Lafayette KC
Lebanon, IN
09/18/05
Lena Wiseman
WD/BOW
1 point
KC of Columbus, IN
Columbus, IN
09/24/05
Virginia Lyne
Reserve WD
none
Hoosier KC
Indianapolis, IN
10/2/05
Betsey Leedy
WD
1 point
Lake Shore KC
Crete, IN
11/27/05
William DeVilleneuve
WD/BOW
3 pt major
Belleville, IL
12/3/05
William Bergum
Reserve
none
Total Points
13 pts (13)
Nikey's UKC Wins To Date:
Show & Show #
Date
Judge
Wins
Points
BOB pts
Trail Creek DTC - S#1
08/20/05
Maude Tank
BM/BOW/BOB/GR 1
35(comp)
5
Trail Creek DTC - S#2
08/20/05
John Davidson
Reserve Best Male
10
Trail Creek DTC - S#1
08/21/05
Richard Klatt
BM/BOW
35(comp)
Trail Creek DTC - S#2
08/21/05
Sandra Sauceda
Best Male
25(no comp)
United W. Shepherd Club - S#1
09/10/05
Pamela Moore
BM/BOW/BOW/GR 3
35(comp)
4
Total Points
140(3comp)
UKC CH Sorita's Verbal Warning " Champion Class"
United W. Shepherd Club - S#2
09/10/05
Tina Augustine
CH of Champions
United W. Shepherd Club - S#1
09/11/05
Jeanne Heger
CH of CH/BOB
4
United W. Shepherd Club - S#2
09/11/05
Gene Reynolds
Reserve Champion
Total Breed pts
13