<![if !vml]>

<![endif]>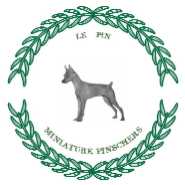 ---
My name is Laurie Smith, my husband, Rick and I reside on five acres in DeMotte, Indiana. DeMotte is located in the North West region of Indiana about 40 miles south of Gary, Indiana. We are also very close to Chicago, about an hour and a half away for those of you who are not familiar with the area.
So now that you know more about us and our dogs, you are asking yourself,
" Ok, why Le Pin for a name? "

Well the answer is simple...
I went to culinary school and know a little about foods and wines.
Le Pin is short for Chateau Le Pin
which is an French wine that is described as
Elegant and Racy. And has a distinct taste....
well that describes every Min Pin I know!!!!
Le Pin
also translates into The Pines.....
and we live in Christmas tree country as well.